Get Your access by providing your info below
Located in Toronto's Core near Sugar Beach, a stone's throw to Microsoft's new Canadian Headquarters.
Sugar Wharf is a visionary endeavor where homes, offices, shopping, restaurants, daycare, transit, schools and parks are rolled into one magical community. Sugar Wharf combines everything you love into the sweetest life you can imagine.
Top 4 Reasons To Buy Sugar Wharf
The Prestige of the Waterfront comes with the territory, you will be the envy of your circle. You've worked diligently all your life ... a waterfront condo is a suitable status symbol that defines you in your circle.

Equity Growth via real estate can potentially be staggering as we watch the Manhattanization of Toronto unfold. If you are an investor, tenants will build your equity for you.

Extended Deposit structure over 2 years allows you to lock in prices today at a fraction of the value, deposit just 5% at 30 days / 90 days / 180 days / 360 days / 720 days / and 1% on Occupancy (2022).

Tech Titans are moving into the neighborhood. Follow the money …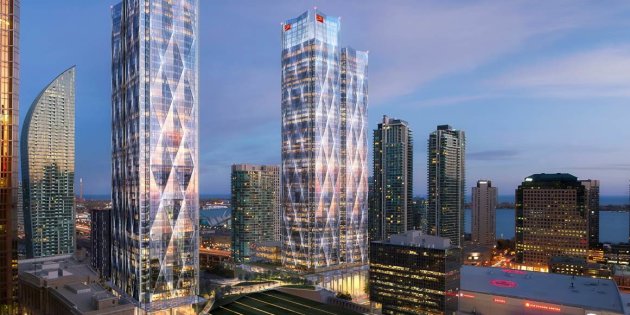 Click Pic: Google's Smart City is where Google will be investing $1 billion dollars and moving their Canadian headquarters a short distance from Sugar Wharf Condos.
Transit Options
Walk score of 95/100, 15-minutes on foot will get you to Union Subway Station and the Go Transit.
For driving in and out of the city along Lakeshore Boulevard East, the Jarvis on/off ramp via the Gardiner Express Way is conveniently a few meters from home.

Sugar Wharf Complex: Wealth of Employment Opportunities:
-5.7 Million sq ft. of new office space now under construction in the area.
-200,000 workers in the Financial District located just 8 minutes away from Sugar Wharf Condos.
-40,000 New jobs generated by the Toronto Waterfront transformation.

Deposit Structure: 5% in 30 days / 90 days / 180 days / 360 days / 720 days / 1% on Occupancy.
Occupancy: 2022
Storeys/Suites: 80 / 1927
Suite Types: 2 to 3 Bedroom
Suite Sizes: 818 – 1717 sq. ft.
Pricing: From $1.17mm
Maintenance Fees: 0.66 /SF, excludes utilities
Developer: Menkes Developments Ltd.